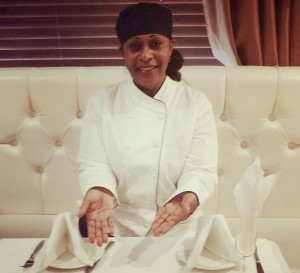 INFORMATION OR BOOKINGS:
(646) 355-3012
contact@suartists.org
BIOGRAPHY:
I have always loved food. Luckily for me my mother and father were superb cooks who enjoyed sharing their secrets. My mother loved the Great Julia Childs.  I remember as a child, watching "The Julia Childs" cooking show with my mom.
My Mother taught me cuisines from her childhood.  She lived in Panama, Jamaica, and England.   My mother's family owned a farm in Jamaica, and my grandmother used to prepare food and beef patties for the market to provide for the family.  My father was just a natural cook who knew how to make any meal into a delicious meal fit for a king or queen.
I began my food career as a trainee at the famous Mr. Leo's Southern Restaurant in lower Manhattan.  Mr. Leo's was my second job; I worked as a Trading Assistant on Wall Street during the day.  Working at the restaurant gave me a little taste of the industry, which was all I needed to realize that I truly wanted to pursue a culinary career.  So, after God spared my life twice after the World Trade Center terrorist attacks, I decided never to go back after 9/11.
I enrolled at The Institute of Culinary Education to get a formal culinary education. I jumped straight into the deep world of catering after I graduated.  I began working for high end caterers like Indiana Market and catering with David Burke and Chef Laurent at American Express, who worked exclusively for The President/CEO of American Express, Restaurant Associates, and Abigail Kirsch.  As the only black woman in the kitchen, I felt that this was far more than a culinary experience – it was just the beginning of a life that required tough skin and a heart of steel.  I made sure to be the eager beaver to be accepted; however, there were many nights I went home crying, while learning the good, bad, and ugly of the culinary world. My experience and education involved a steep learning curve that pushed me to the edge and to be the best. I learned that I had to be on top of my culinary skills 200%!
I learned so much from these corporations and chefs, and I am humbly grateful to them for the lessons taught to me to be the best and never settle.  I continued working for various catering companies in New York – The Works Catering, Sprit Night Club and Restaurant.
In 2008, I made a career move towards the restaurant business.  I was asked to be Chef Henry Lopez Jr's Sous Chef.  Chef Henry worked with Chef Douglas Rodriguez, the Godfather of Nuevo Latino Cuisine. I was honored and excited to learn a new cuisine.  Vinas in Williamsburg, Brooklyn opened and received excellent reviews in Time Out New York, The New York Times, etc.  It was a pleasure working with Chef Henry Lopez Jr.
I continued my culinary experience working as a consultant chef.  I consulted for various chefs who needed help with their catering business. In 2010, I took a brake and I wanted to travel locally and do something different and adventurous. I worked for a famous Chef out in Mamaroneck, New York – Chef Johnson, the New Orleans Louisiana Chef on a Truck.  Chef Johnson and I hit it off so well, that we decided to do performances on the food truck, while we served the food. We were a class act on the road, especially when Johnson Jr. was in school. Johnson Jr. is one of the main characters on the food truck.  The food is always over the top. I worked as his Sous Chef, and we entertained the crowd.
In 2013, I took on a Head Chef position at a restaurant in Rosedale, Queens called Pa-Nash.  The owners of Pa-Nash had a very interesting new cuisine that sparked a lot of interest from various chefs. Euro-Soul was the buzz in Rosedale. The Cuisine consists of Mediterranean, Caribbean and Soul Food fusion.  Working at Pa-Nash was a life changing experience for me.  I recorded all of my experiences there.  I learned lessons at Pa-Nash that were very both good and bad.  The owners are very hard working people with a vision for success.  Pa-Nash has a warm spot in my heart and I will always be a part of the family.  I love them.
In 2015, I took a leap of faith and started my own business. I am very excited about Pop-up Chef Peaches Catering. I came up with the idea a few months ago, while I was waiting for Pa-Nash to re-open after a fire. My bank account was in the negative and my rent was backed up. I had to think smart and fast, since I needed to keep a roof over my head and earn a living.   I took all the experience I had and made my own brand.  Pop-up Chef Peaches is that Chef who comes to your home and helps you plan that spectacular dinner for your family and friends. The clients get to pick the menu of their choice and Pop-up Chef Peaches pops up with her camera crew and starts the planning for the party.
The clients get a chance to learn how to shop at the farmers markets, food co-ops, and local markets.  Clients butcher meats; they learn cooking techniques, and learn how to be creative on camera. We do a lot of surprise dinners for couples and families. The theme parties are the best. We cater the entire event for theme parties.  It's a fun reality show. We travel everywhere and plan the party from beginning to end.
In addition to my culinary television career, I did a television segment for The American Diabetes Association. The Diabetes Association put together a show teaching people with diabetes how to cook healthy meals.  It aired on FIOS on the New York 1 channel.
I recently started teaching kids how to cook in Yonkers, New York.  I teach culinary arts at Roosevelt High School, Gorton High School and Yonkers Middle School after school programs.  I spend time consulting on food trends and helping clients learn current trends to create exciting new food products. I enjoy my culinary career and expect to be the number one culinary adventurous event cooking show!